Hilltop Child Development Center, Habitat gARTen
690 Corte Maria Ave, Chula Vista, CA 91910
Completed: November 2014

The Habitat gARTen is phase 2 of the Hilltop Child Development Center Outdoor Play and Learning Environment. Funded by a grant from the County of San Diego, the Habitat gARTen was created through a participatory design and build process with the school community and many volunteers. The gARTen includes: an accessible trail for small children, native wildlife attracting plants, a bio-swale, outdoor classroom space, and nature inspired art projects created by the community.
At the site of Phase 2 of the Hilltop Child Development Center, the Habitat gARTen was created to restore the presence of the natural world into the everyday experiences of children who attend preschool. Under the leadership of Ilisa Goldman, the "gARTners", a group of San Diego County artists and designers who volunteer their time and expertise to create spaces that incorporate art and nature, helped to launch this project and secure funding.
The project converts an unused area of the school site into an outdoor classroom, integrating art, science, nature, and gardening. The Habitat gARTen includes: a wildlife viewing area; creative art areas; a science exploration station; an interactive water element; native landscaping; a bio- swale; and dry ponds with natural habitat plants.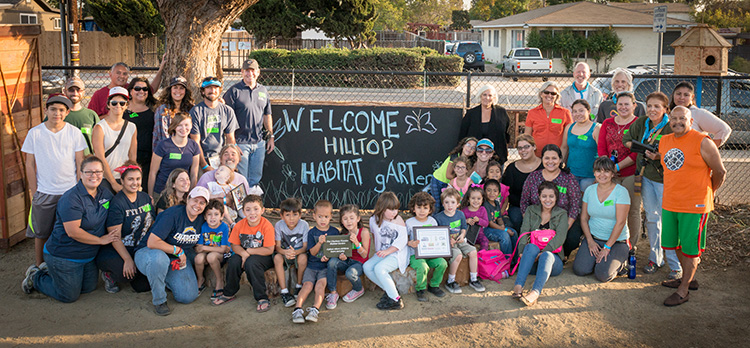 On November 15 and 16, 2014, approximately 150 volunteers worked together to build the Habitat gARTen, combing art and nature into a dynamic laboratory for hands on, project based learning.
Rooted In Place Landscape Architecture and Consulting:
Project Management, Designer, and Construction Observation
Additional Support included:
The gARTners – Volunteers, Design Workshops
Garrett Goodwin of Goodwin Creations – Artist, Contractor
RainThanks and Greywater – Contractor
Costal Sage Gardening – Contractor, Native Plant Expert
Jackie McDowell – Artist
Todd Stans – Artist
Funding:
County of San Diego, Neighborhood Reinvestment Program Grant and the County Board of Supervisors.
Client:
Child Development Associates (CDA)
Links:
Child Development Associates: http://www.cdasandiego.com/default.aspx