47th and Castana, San Diego, California
Completed: June 2014

As part of Ilisa Goldman's work at the City of San Diego, Civic Innovation Lab, this vacant 2-acre site in Lincoln Park was transformed into a community gathering space. Overrun by invasive plants and trash, this site contributed to blight in the neighborhood and was a hotspot for crime and gang activity. With thousands of hours of hard work performed by hundreds of volunteers, this abandoned space was turned into a tremendous asset for the community.
Owned by the City of San Diego, this project site was and has been a haven for crime and homelessness for many years. The former SD Civic Innovation Lab, lead the transformation of this vacant lot into a new public spaces for the community. Neighbors, business owners, schools, community artists, non-profits, contractors, and representatives from the City of San Diego worked together to transform this mistreated space into a safe gathering place, celebrating local culture and identity, and improving the overall ecological health of the area.
Using a participatory design process, engagement included an intensive week of community input and design workshops, community art making days, design development, permitting, budgeting, material procurement, and a 4-day community build.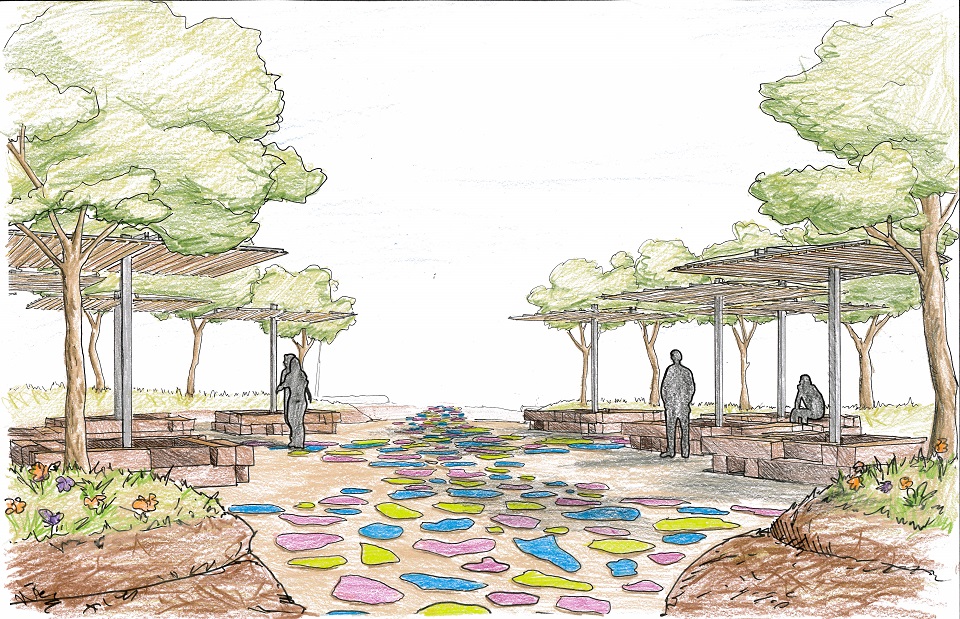 Chollas Creek Crossing brings a new model of civic engagement to the City of San Diego for working with communities to improve San Diego's neighborhoods.
"Ilisa Goldman's vision, design talent, and sheer hard work empowered the community to transform a blighted Chollas Creek lot into a beautiful gathering place. Against all odds, Ilisa made it happen."

-Leslie Reynolds, Executive Director, Groundworks SD.
Project Gallery
City of San Diego, Civic Innovation Lab
Ilisa Goldman: Project and Construction Management, Community Facilitator, and Designer
Project Partners:
Groundworks San Diego
City of San Diego
UCSD Blum Cross-Border Initiative
Funding:
TKF Foundation – Open Spaces, Sacred Places Grant
City of San Diego