As the summer winds down and we celebrate the 100th Birthday of the National Park Service, it is time to start thinking about how we can provide our children daily nature experiences. Some of us are fortunate enough to experience our regional, state, and national parks throughout the year. But for many, this type of travel or getaway can be challenging. Especially during the school year when children are busy with classes, activities, and we are trying to keep up with what feels like the treadmill of life.
So how can we ensure that our children get to experience the wonders of the natural world on a daily basis? The answer is: Nature Play at Home!
It doesn't take a lot of money or even much space. All it takes is a little creativity!  With two young girls (now ages 6.5 and 8 years), it has been my mission to make our backyard as fun and dynamic as possible. By creating a number of different settings, the girls and their friends spend hours playing, exploring, and hanging out. Here are just a few simple ideas that you can do to encourage nature play at home.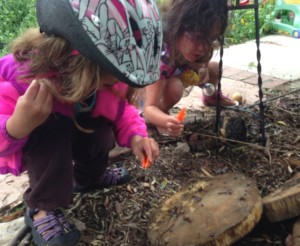 Nooks and crannies: Create area with rocks, logs, etc. that children can flip over and explore.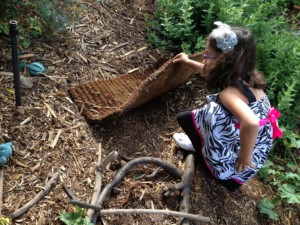 Bug Rug: Take an old carpet remnant put it in a shady spot, and keep it most. When children lift up the rug, there will be lots of fun critters to catch and observe!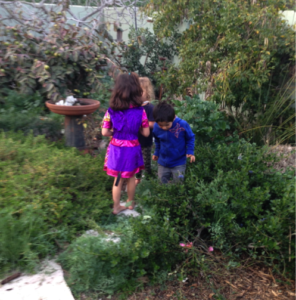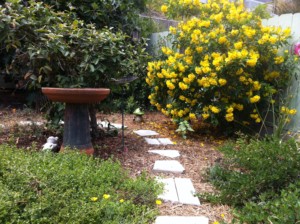 Mini Trail: Your yard doesn't have to be huge to create mini exploration trails! You can use stepping stones, broken pieces of concrete, or even a dirt with a stick border.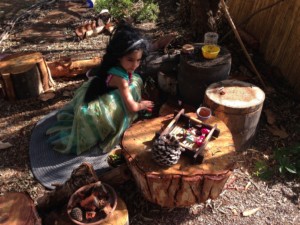 Fairy /Dinosaur Garden:  All you need is a shady area, stumps and logs, some nature materials like shells, pinecones, etc., and you have a magical miniature world!  TIP: If you live in San Diego, there are always lots of stumps and logs on Pomerado Road!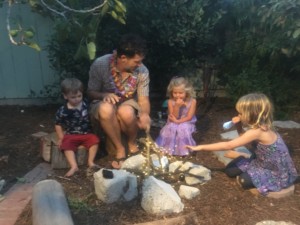 Places To Hang Out:  As children get older, they need spaces to just be: to talk, to giggle, to relax. Here are a few ideas to create hang out spaces.
Camp Fire area: Make a small pit with old concrete, rocks, and stumps. We use solar powered string lights to give a feel of fire at night!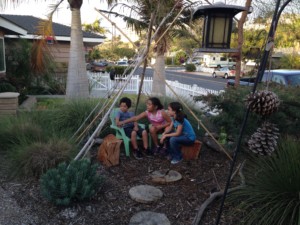 Teepees and Forts: All you need are a few pieces of bamboo, twine and some stumps. Place stumps in a circle and the kids will come.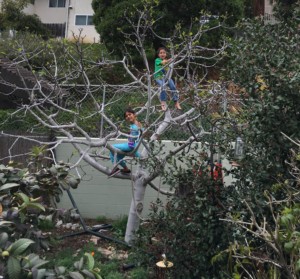 Trees: Whether you create a place for sitting under a tree or allow your children to climb, trees are dynamic spaces for children to explore. I am in awe how the neighborhood children know every branch on our fig tree! It took me letting go of my fears to let them climb and discover.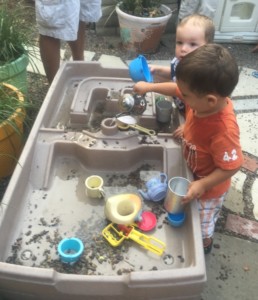 Sand and Water Play: The simple placement of sand and water play next to a play kitchen offers endless opportunities for your children. These elements are easy to find on Craigslist and groups like NextDoor and BuyNothing. No need to spend the money on new ones.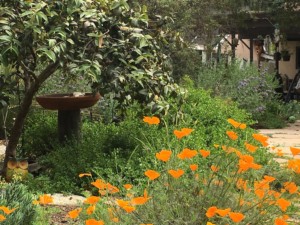 Wildlife Habitat: By selecting native, local plants not only will you attract wonderful birds, butterflies, and insects, but you can create a beautiful pallet of color that changes through the seasons.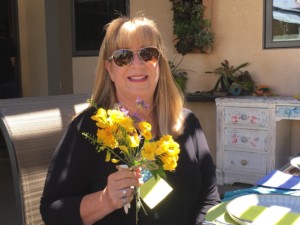 Plus: What grandmother doesn't love fresh picked flowers from the garden for Mother's Day? Fresh bouquets of flowers have become a staple in our house!
So these are just a few simple ideas to encourage nature play at home. Pick one or two to implement this fall! When your kids come home from school you can send them right outside to get a good dose of Vitamin N!
Don't forget…we do have access to some of our Nations most beautiful parks.  Plan some day trips and weekend getaways to go explore with the family this fall. You can relate what you see back to your own yard!
Here are some suggestions:
Short Outings:

Sunset Cliffs, Ocean Beach
Tidepools at Cabrillo National Monument in Point Loma
Our wonderful urban canyon network (https://www.sandiego.gov/park-and-recreation/parks/oscp/maps)
The Nature Exploration Area in Balboa Park (near Morley Field Dog Park)
San Diego National Wildlife Refuge (https://www.fws.gov/refuge/san_diego/)
Tijuana River National Estuarine in Imperial Beach
Day Trips:

Laguna Mountain
Mission Trails Regional Park (you can camp there too!)
Mount Woodson, Potato Chip Rock
Anza –Borrego Desert State Park
Weekend Getaways:

Big Bear/Lake Arrow Head
Palomar Mountain
Catalina Island
Joshua Tree National Park
For more ideas and DIY projects check out:
Nature Play At Home: A Guide for Boosting Children's Healthy Development and Creativity,  www.pca.state.mn.us/sites/default/files/nature_play_at_home_2012.pdf
To learn how to create and certify your own Backyard Wildlife Habitat:
http://www.nwf.org/Garden-For-Wildlife/Create.aspx
A great local resource for connecting children to nature: www.sdchildrenandnature.org
We encourage you to visit our website: www.rootedinplace.com and learn about us, what we do and who we are.  Please like our Facebook Page: https://www.facebook.com/rootedinplaceLA/ and feel free to contact us for more information!
Thanks for stopping by! We hope you enjoy THE HOOT!