As a two-woman landscape architecture firm, we are proud to be completely involved in ALL aspects of running a business. One of the hats I wear, (I love hats) is in business development, which I absolutely love. Go ahead and tell me your fantastic idea or venture and I will be your number one fan, and fill your ears with ideas and many "did you know whats"!
Business Development has ALWAYS been an interest of mine. In the past twelve years, I have been more than willing to build up new ideas, work with a start-up or flee the comfort of a 9 to 5 to start a new venture. Yes, 12 years isn't that long but I have worked on some pretty fun ventures that strengthened me to be the #girlboss that I am today. (shout out to huge woman crush Sophia Amoruso)!
My newest discovery in business development has been the introduction of Social Enterprise into the for profit world. At Rooted, we have struggled whether to be a for profit or a non-profit because of our social and environmental mission. However, through savvy, late night Google searching, we discovered an article in the Harvard Business review that opened up the portal. you can read here; https://hbr.org/2011/11/the-for-benefit-enterprise
For Benefit or social enterprises are businesses that criss-cross the ideals of the non-profit social and environmental mission driven organizations with the traditions of a for profit financially driven business. Now you have a business that wants to succeed and be profitable while supporting a social or environmental mission. Voila!
Now that we had a better understanding of how to develop and market ourselves, beyond being a landscape architecture firm that offers niche services, we hit the ground running.
Warning: I move very fast once I have a plan set in motion. If the page begins to blur, I promise, it's not you, it's me.
So, through networking, research and more networking, we discovered some really great opportunities to further understand what it is to be a social enterprise, get a mentor and even investors!
The following is a quick list of people, organizations and events that we have discovered to support us as we further develop our business and truly make our vision become a reality.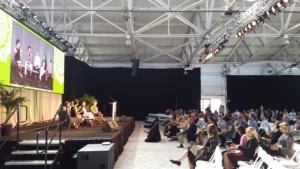 SOCAP16: "SOCAP16 is gathering impact investors, social entrepreneurs, foundations, corporations, global nonprofits, and other valuable strangers all contributing to a vibrant marketplace for socially, environmentally and economically sustainable solutions."
I recently attended SOCAP and made connections with people working all over the world. The connections I made occurred in a very organic manner, rather than the forced, dry-throat elevator pitch that can sometimes be the norm. The adrenaline rushes through me when I am exposed to a broader community of social and environmental do-gooders. It drives me to push our mission harder and further and also provides me with a huge insight into other strategies of business development and partnerships.
Impact Without Borders:  "Impact Without Borders invests in the social capital of our communities and our binational region by educating aspiring impact makers, equipping emerging leaders with tools and technologies to drive innovation and change, and accelerating the next generation of social entrepreneurs."
We recently submitted to be part of a five-day intensive business accelerator that is led by the Unreasonable Institute and hosted by Impact Without Borders. The focus will be to improve your business plan, create relationship with a mentor and get your business set up to pitch to investors. This is definitely next level business development for us!
 Lifestyle Business Accelerator:
"WE BELIEVE ENTREPRENEURS CAN TRANSFORM THE WORLD. You bring the idea, we bring the tools and together we take your vision from concept to profit."
I attended an evening Mastermind event that was absolutely amazing! It was hosted by LBA and Start-Up Garage. The people at my table were incredibly smart, driven and thoughtful. Each person at the table went through a 14-minute exercise where you pitched your idea or  business, talked about challenges, listened to input, and then asked questions. The amount of attention and empathy given to each person was inspiring. I left this event feeling mentally and physically recharged and incredibly inspired by the people I met.
Start-Up Garage: "Helping founders achieve the milestones investors care about. The Startup Garage works with entrepreneurs in early stage, high-growth companies to attract investment and get out of the "garage.""
Tyler Jensen is the ultimate go-getter and is super easy to talk with. He is hosting a 10 week accelerator that will help you fine tune your business plan, financial plans and ultimately help you to create the package to have success with investors.
Now we are on our way! Fine tuning our strategies, meeting inspiring people, and fully forging our path as landscape architecture activists.