It is not every day that we can say that San Diego is on the forefront of what we hope will be a national trend. But today, we can! Just a few months ago, the City of San Diego Parks and Recreation installed the City's first nature playground called The Morley Field Nature Exploration Area.
Located in Balboa Park, just east of the Morley Field Dog Park, nestled underneath the trees, sits a place of magic, discovery, and play!  Thanks to the wonderful staff at Parks and Recreation, children in San Diego now have a place to play in and with nature! I know this may seem trivial as many of us grew up during a time when unstructured, outdoor play was part of our daily lives, but today's children are given little time, if any, for these types of experiences.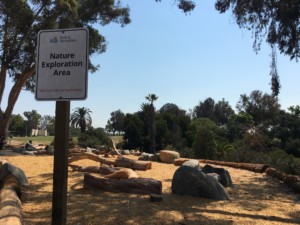 Research confirms that nature play helps to stimulate creativity, promote discovery and encourage teamwork all while fostering an enjoyment of, comfort with, and respect for nature.  This is critical in a City where daily access to nature is not feasible for a majority of residents.  This new play area creates a place where children can have freedom to build and explore in a secure setting.
On September 24, 2016, SDCaN and SD Parks and Recreation partnered to launch San Diego's first Nature Play Day! Over 500 people came to build forts, cook mud pies, and explore the wonders of nature! With such an amazing turn out, we hope this can become an annual event.  We also see tremendous potential in creating more of these spaces in San Diego.  Significantly less expensive than traditional playgrounds, nature play areas can be almost anywhere. From existing parks and open space to vacant lots, Nature Playgrounds can be implemented throughout San Diego.
If you want to see more Nature Play Areas in San Diego contact your City Council Representative or your local Parks and Recreation Liaison.  Send emails and letters to ask for one of these in your neighborhood!
The Nature Exploration Area is located in the Morley Field area of Balboa Park (2221 Morley Field Dr, San Diego, CA 92104), directly south of the Balboa Park Tennis Club and about ½ mile east of the San Diego Zoo.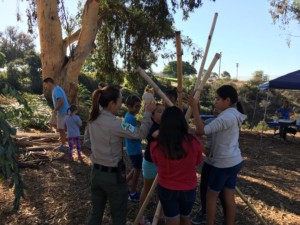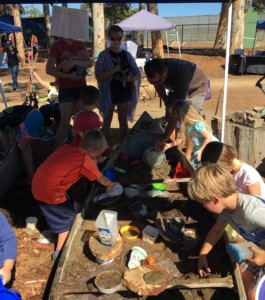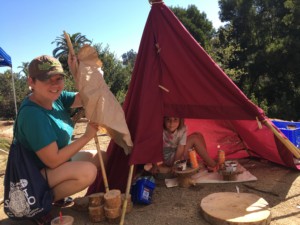 Want More Nature Play???
SUKKOT HARVEST FESTIVAL
Come visit Rooted In Place at the Sukkot Harvest Festival on October 23rd at the Coastal Roots Farm (441 Saxony Road, Encinitas). We will have all the nature materials out and ready for some hands on play and exploration!
During this one day event, children of all ages are invited to engage in unstructured outdoor play with the collection of natural materials including bamboo poles, sticks, tree cookies, pine cones, shells and palm fronds. From teepees to fairy houses children work together to bring their ideas to life.
For More Information visit:
BALBOA PARK EARTH FAIR
Every April San Diego Children and Nature (SDCaN) hosts a Pop Up Nature Play event at the San Diego Earth Fair in Balboa Park.  Join hundreds of children and their families from across San Diego spent the afternoon creating what can only be described as a mini village of magical structures with nature's loose parts.
For more information on SDCaN and Nature Play, visit, www.sandiegochildrenandnature.org